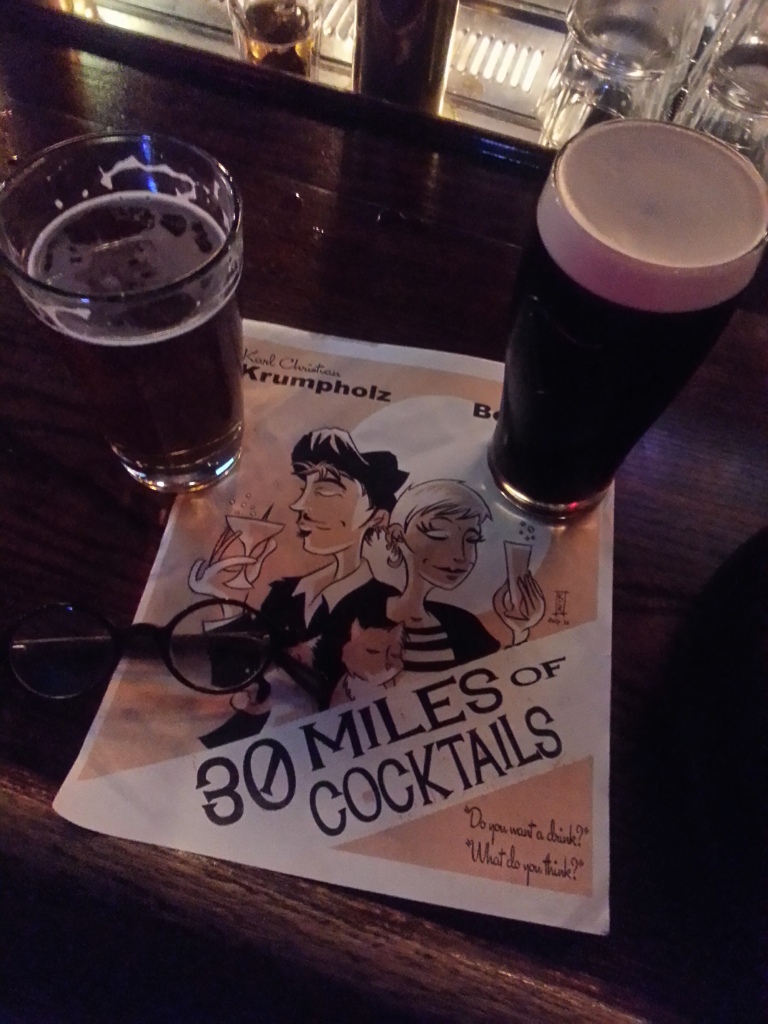 "30 Miles of Crazy?… So, what's your book about?", one of the many convention-goers asked me as they pass and stop by my table at the Seaport World Trade Center in South Boston that afternoon.
"Well, it's drinking stories. Some from Denver, Boston, and Philadelphia. Stories about the strange people you meet in bars or on street corners."
"Oh… I'm only 18, so I don't know anything about that."
"Ah."
"My boyfriend is 21… but he's kinda straight-edge, so he won't be interested either."
… and that's pretty much how most of the afternoon went for us at our table over Day One of Boston Comic Con. I never thought it would be that hard to sell a comic about drinking stories (or portraits of famous drunks) to a Boston crowd. But the crowd was quite young and this was probably the most mainstream show I've ever done (and I've done San Diego every year for close to 10 years straight.) There was a notable lack of Indy cartoonists. People were just uninterested and I didn't really deal in Batman or Spider Man prints.
"So, where would you like to get a drink? I don't know this area," Kelly said to me as we left the convention hall and headed across Fort Point Channel. We originally stopped in to check out the hotel bar across the street from the Con (I believe it was called TAMO), but a quick glance offered a tame inoffensive bar, a club crowd with pink cocktails, and very offensively loud techno music. Not our scene at all. Part of me had thought it may be wise to stick around, bear through it all, try to talk and have a drink with some of the rest of the artists at the convention… but I was back in my hometown. I'd rather go visit some of the old stomping grounds.
Kelly and I walked over the Channel, passing by several bars (like 'Whiskey Priest' and 'The Barking Crab') that held little interest, and started wandering through the Financial District till we approached Downtown Crossing, an area I was much more familiar with. Walking up Summer Street, took a turn at Kingston, and again found ourselves at J. J. Foleys at Downtown Crossing (21 Kingston St.)
"Wait… you have Yuengling?!" Kelly asked wide eyed.
Now, this isn't the original Foleys, which is further south on E Berkeley Street, off Washington Street in the South End; but this is the Foley's that I visited when I worked in the area. It's a family-run Irish pub that can get quite loud with the blend of young college students and people from the neighborhood. Walking in, I was surprised how quiet it was for a Friday night. A dimly lit room with a scattering of people in some of the booths lining the left hand wall, mirrors along the wall, and a deep wood bar. More people were in the further back area that was more open (and better lit) for dining. Kelly and I sat at the bar, underneath one of the TVs turned to ESPN and ordered a pair of Guinnesses. As the bartender turned and raised his hand to the tap…
"Wait… you have Yuengling?!" Kelly asked wide eyed.
"Yes, we do."
"I'll have a pint of that instead!" Kelly was excited. This was her first Yuengling in some time (since our last trip to Delaware Valley, two some years ago.) We had heard some rumors from my friends that the Pottsville, PA beer had finally made it up to New England. While I enjoy the beer, I also grew up with it. Kelly only discovered it about ten years ago and still gets excited whenever she has a chance to order one.
"Yuengling. Yuengling. Yuengling. It's so fun to say!" Kelly was delighted. As usual.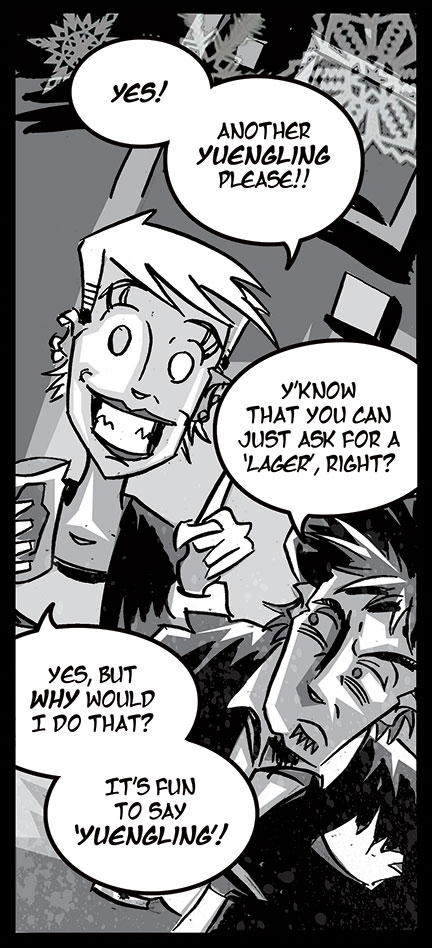 One of the things we also noticed in Boston, which is quite different from most of the bars we frequent back in Denver, is that most of the bartenders are older – they've been working behind the bar for most of their adult lives, not just as something to do while they look for a 9-to-5. They are quite happy to talk and deal with you, but this is their livelihood, their career. I respect that. Now, we know many great bartenders back in Denver, but most of them are younger (many under 50). It was a striking difference.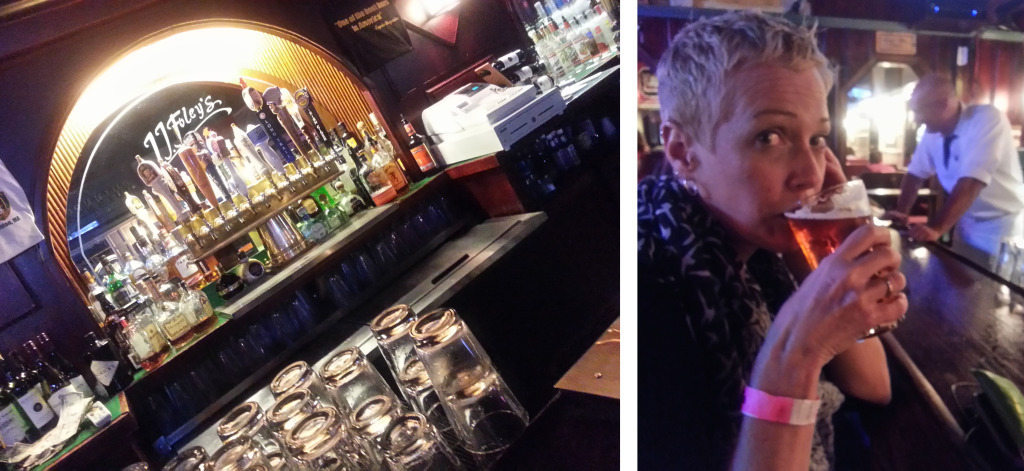 After two rounds, the tension from the con started to leave us and we were debating our next step, which was dinner. So, we left J.J. Foley's, walked through Chinatown, and headed over towards Stuart Street and the Theatre District.
"I love you so much…", the drunken man said as he groped a potted bush outside one of the clubs along Stuart Street as we walked up to Jacob Wirth (31 Stuart Street), one of the oldest restaurants in Boston (since 1868), second oldest continuously operating one (after Union Oyster House.)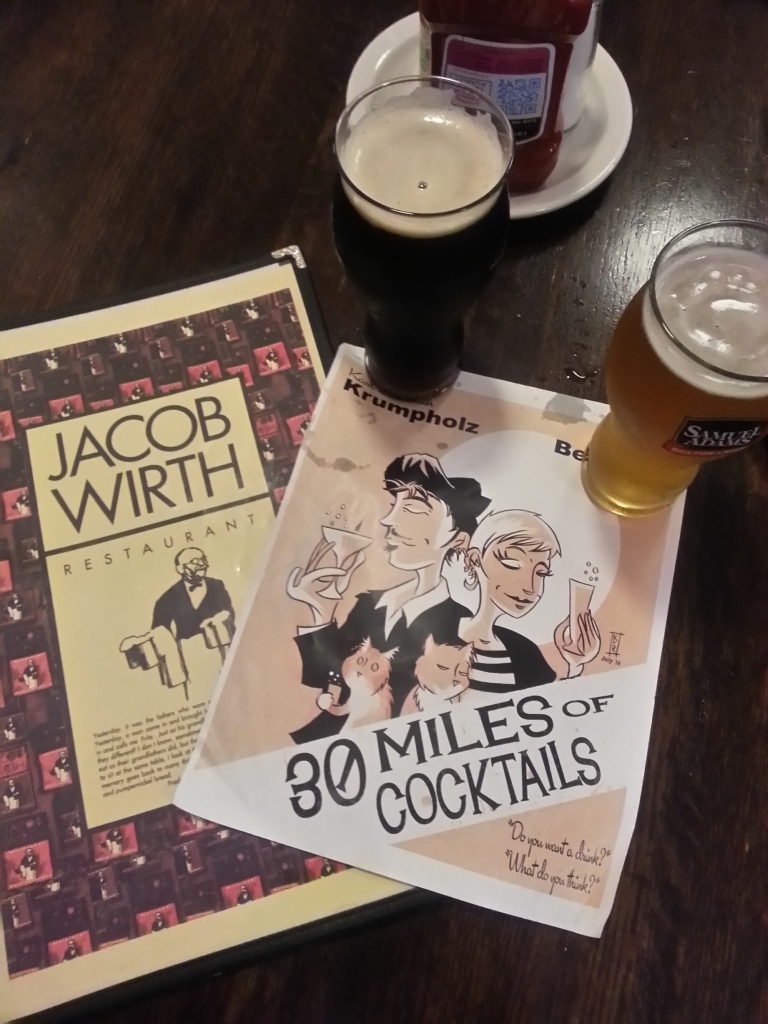 In a city known for its Irish heritage, it's nice to find an old fashioned German beer hall smack dab in the middle of the city. An old, well-worn wooden bar, photos, framed famous signatures on menus, beer banners, and the late Sox game on the few TVs scattered about the place. The place was pretty crowded as well as we found ourselves walking into some sort of 'singing night.' No, this wasn't karaoke. A gentleman played the piano in the larger back dining area and the crowd joined in. This was good old German beer hall group singing. Of course, the difference being that the crowd was singing the various hits of the 1970s: Abba, Journey, Beatles, and such.
Kelly and I found a cocktail table towards the front of the bar. We were away from most of the singing so we could talk; but still close enough to appreciate the roar of the crowd. We both ordered some of the House Dark and House Lagers, thinking German.. beer… House brew… Let's go for that! It was only natural that both were very good. We were on our second round when the waitress accidentally brought me a cider instead of a lager (I guess it's about the same color.)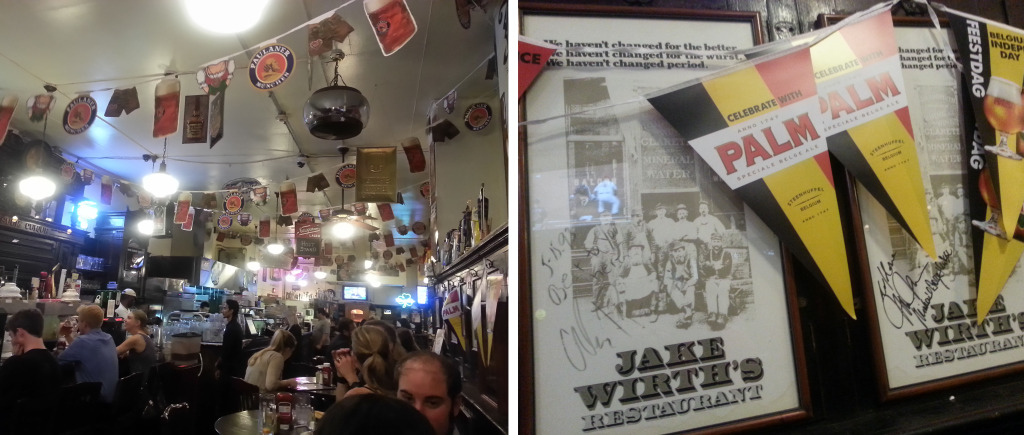 Let's stop for a moment to point out another rule of drinking that we've found to be utter true: If the waitress brings you the wrong drink, keep it. Not only will you have an extra drink, but likely get the correct drink for free. … and this was still the case. So, Kelly and I (and our buddy Chris B, who joined us) sipped our beers, talked, and watched the Sox as the crowd started singing 'Sweet Caroline.' A warm feeling came up inside me and I smiled. Forget the con. I was back home