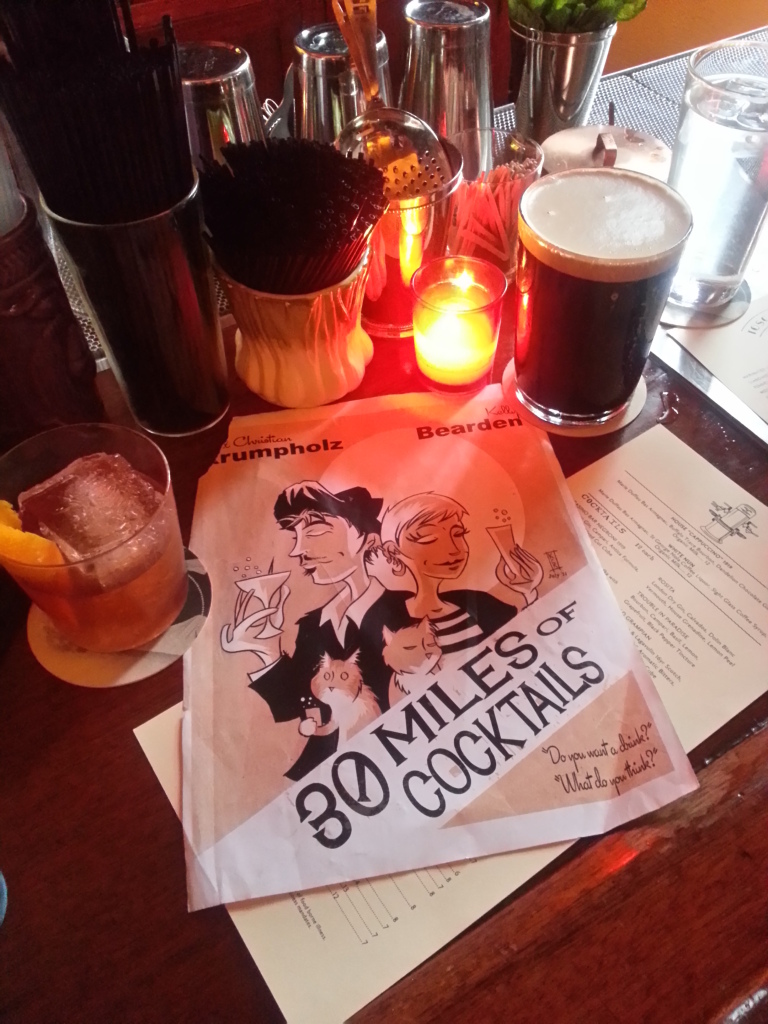 Tosca Cafe (242 Columbus Ave, San Francisco, CA 94133)
After a full afternoon exhibiting and helping Karl out at the Alternative Press Expo, the night finally started and both of us were in need of a cocktail. We had been informed by some friends over the day that the Tosca Cafe was one of the best new cocktail bars in North Beach, steps from our hotel, and a must go.
The Tosca Cafe has a lot of history, stretching back almost a hundred years: from dive bar to high end, yet faux-rustic Italian restaurant. In its modern version, this is the kind of place that oozes class, the kind of place people have been passing through for years, the kind of place that "seems" to have been owned by a family for generations (it hasn't), the kind of place that 'The Godfather' films would place a hit at, the kind of place that says 'You must like me!' The kind of place that, really, should have been right up our alley.
… and yet, something bothered us about Tosca Cafe. Something seemed off during our visit there. Something that we seemed to be missing.
Did we hate it? No, not really. We're we in a bad mood? No, just tired from working all day at the con. Still, Tosca just didn't seem comfortable for us. More of a film set then a bar. We've been in a lot of places and Tosca struck us as the kind of place that we'd take our parents too in order to seem respectable, ease their worries, tell them "Yeah… we're still doing fine", and hopefully they would still pick up the check.
From our seats at the far end of the bar, the atmosphere of the Tosca Cafe was on the positive side: a long wood bar, reproductions of old 18th & 19th century murals high on the walls, a reddish glow in the lights, bartenders and staff smartly dressed in uniforms shaking cocktails, a vintage espresso machine near us at the end of the bar, an old jukebox at the other… with loud club music playing throughout the bar. Something was off.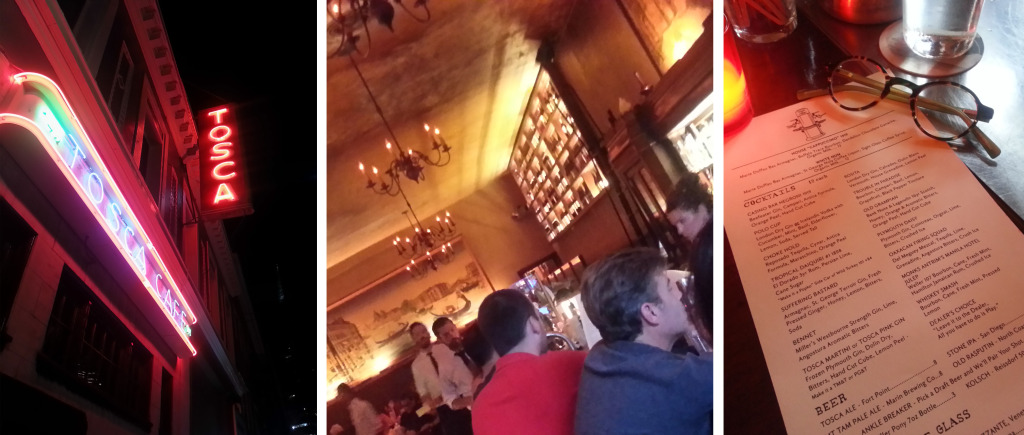 The friend who was with us perused the menu for "just a bite", his eyes lighting up as he discussed his order of Crispy Pig Tails with the bartender, while enjoying one of Tosca's signature coffee cocktails. While acknowledging that the appetizer menu was quite nice and interesting, we were still left a bit cold as we ordered our cocktails. I went with an old favorite – 'Old Rasputin', an Imperial Stout from North Coast Brewing Company (hard to mess a beer up) – while Karl ordered an 'Old Grampian' (Bank Note and Lagvulin 16 yr old scotch, honey, orange & aromatic bitters, orange peel, hand cut cube… they have to mention that about the ice cube?) Karl commented that the cocktail was actually quite good, nice and smoky… but for a place obviously catering towards the high end, construction-quality craft cocktails, and charging a slightly eyebrow raising price… why was his drink served in a plastic cup? Karl was so surprised by this fact that he even asked me to check over it as well. Was he imagining it or having some sort of fit? Nope, not at all. Sure, it sure looked like a glass, but was actually hard plastic like you would take on a picnic. Again, something was off, leaving Karl and I less than impressed. Like a David Lynch film where everything looks nice, yet something is lurking right below the top soil. The whole place seemed like a facade.
I've read that Bon Appetit has listed Tosca Cafe as one of the ten best new restaurants in America for 2014 (#4), and perhaps we were just not in the right space for what they had to offer that evening. Even changing to music to something more atmospheric – yes Sinatra would be cliché (opera may be better), but they is a lot of good music that would have served the space in a better way that annoying loud dance and club-music. Karl and I left after one round, moving to our next stop.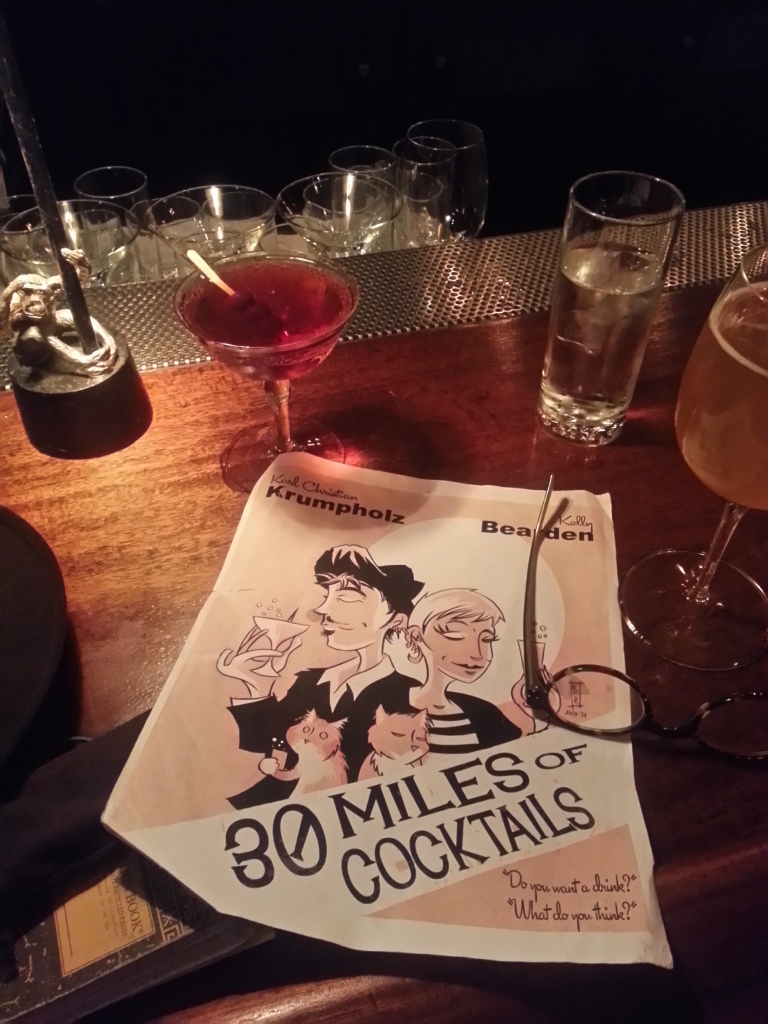 Comstock Saloon (155 Columbus Ave, San Francisco, CA 94133).
It's been about two years since Karl and I had been back to San Francisco. In that time, the Comstock Saloon has been the one bar that several of our Denver friends (and frequent visitors to San Francisco) have mentioned to us over and over again, even telling us which bartender to talk too. It's located at the lower end of North Beach where it meets Chinatown and the Financial District (right across from Mr. Bings… but that's a bar for another story).
"People… wood… brass… tile… dark…" were the first things that came to mind as we walked in early in the evening, moved through the crowd, and found seats at the corner of the front bar. Old country music played on the stereo, drifting into jazz. Nice touch. Sitting at the bar and looking around, I thought it was as if a Victorian ice-cream parlor decided to serve high-end cocktails, what with the white marble counter on the tall ornate shelving behind the bar. Comstock has a similar feel as Williams & Graham back in Denver, but this place goes in a completely different direction with it all. All of the wood and tile and marble made the room feel more like a western saloon or Victorian parlor than a modern cocktail lounge.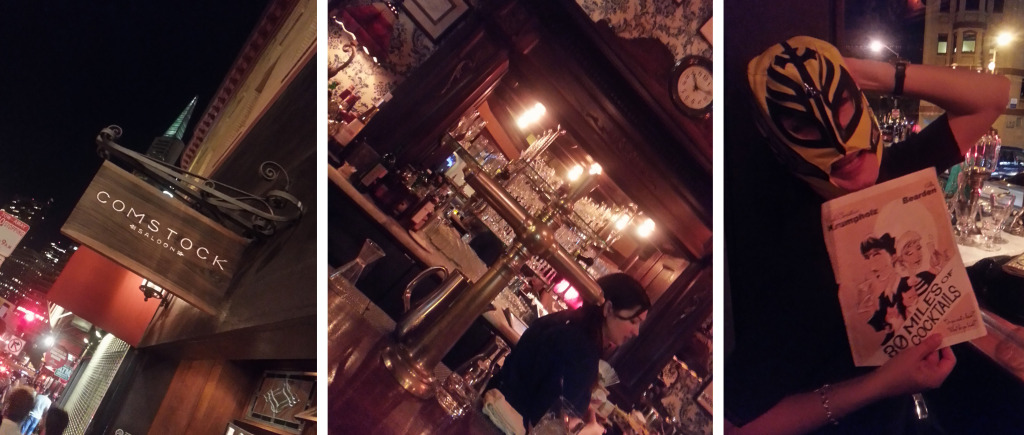 Looking around from our stools, we realized there were monkeys everywhere. Not actual monkeys (unfortunately), but metal monkey bottle holders, monkeys on the lamps, on the book ends, monkey salt/pepper shakers, monkey figurines under glass, and so forth. So many monkeys! Since we have a penchant for a good monkey-bar (our first and favorite is Three Monkeys Cafe in Northeast Philadelphia, which we found while waiting for our train to NYC a few years back), we were completely charmed.
The bartender come over very quickly, welcomed us, and handed us the cocktail, beer, and wine list, and we had our first round very shortly after arriving – a Manhattan for Karl (which came in an etched glass goblet), and a Hoegaarden for me, which was served in a wine glass. I was delighted to be able to drink a beer in such a classy fashion.
A friend joined us as we were beginning our second round (another Hoegaarden for me and now a Sazerac for Karl, which he commented was a cocktail many places could not do correctly. Comstock made an excellent one), and we continued our evening as the bar become roomier as the patrons moved off to their next destinations. After the second round, we followed soon after.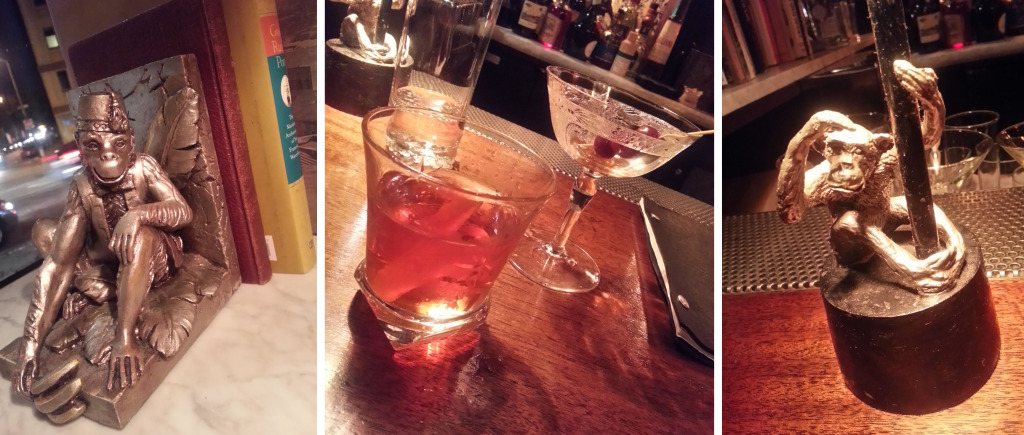 The following night, due to the myriad of San Francisco folks who all wanted to join us for the evening (much too many to fit into a cab over to Smuggler's Cove), we once again ended up at the Comstock Saloon, knowing we would find excellent cocktails stumbling distance to our hotel. However, this time we checked out the far roomier back room where the quality of the cocktails remained top notch. The room was much larger than the front bar, which was lovely – the same Victorian Parlor feel, booths lined the wall, with the high ceilings hung with pulley fans and a large portrait of Emperor Norton. This seemed a lot more western, almost drifting into steampunk (which seems to be one of the new design flavors of the time.) The music was old and new standards, which at first I took to be playing over the stereo. Oh no… there was a woman singing and doing her interpretations of standards as she played a slightly out of tune piano in a high alcove up above the bar. Very stripped down Post-Modern Jukebox, and very apt for the atmosphere of the bar that brought the western saloon feel full circle.
Yes, the Comstock Saloon was quickly becoming one of our new favorite bars in San Francisco.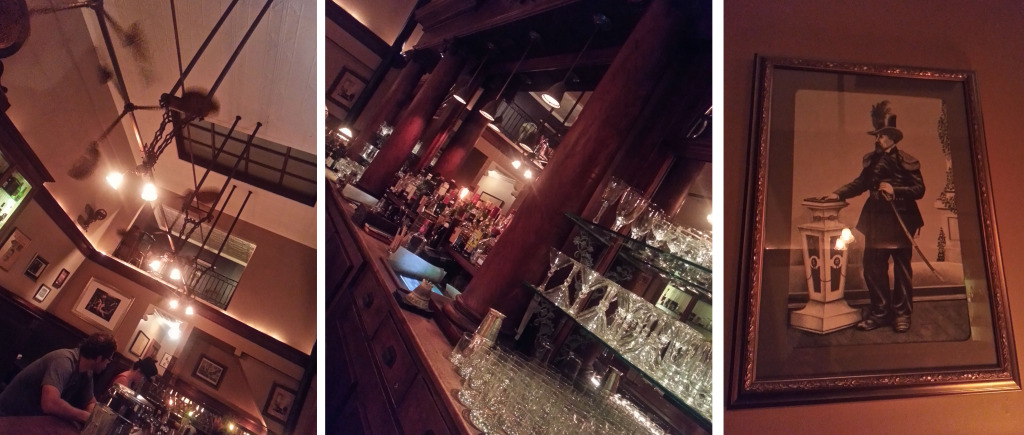 Original Joe's (601 Union Street, San Francisco, CA 94133).
We first discovered Original Joe's a few years ago when we were in San Jose for one of Karl's art openings, and had not realized it was part of a small local chain – the San Jose location (301 S 1st St, San Jose, CA 95113) is a throwback to the '50s, with red plush bar stools, basic good Italian-American food, a great place to get a martini, and an atmosphere that seems to be waiting for 'The Chairman of the Board' to arrive. We immediately decided that this would be our respite from the all the mainstream chain restaurants in the convention-center area we were staying in (it had been oddly hard to find a decent bar in the area.) We found ourselves frequently sitting at the back bar and very soon became friends with the bartender for the duration of our stay. So we were hopeful about the San Francisco location – which we discovered was the reopened original 'Original Joe's' (a fire burned down the original location in the Tenderloin in 2007 – due to the extensive damage to the building, they moved to North Beach and reopened in 2012).
We decided to try it, and were quickly seated, with drinks on the way – Karl had an 'Old Fashioned' and an Anchor Steam for me. The feel of the place was much more modern – stripped down Italian with only a few touches deeper into the dining of the usual Italian-Restaurant-Kitsch one tends to find – black and white photos of famous Italian-Americans, checkered-tile floors, red booths. The patrons in the cocktail lounge seemed to be have a rollicking good time watching the baseball playoffs and singing along with what seemed like the entire Hall & Oates oeuvre. After a leisurely dinner, we realized that while we missed the '50s kitsch of the San Jose location, we were more than satisfied with our dinners and drinks.