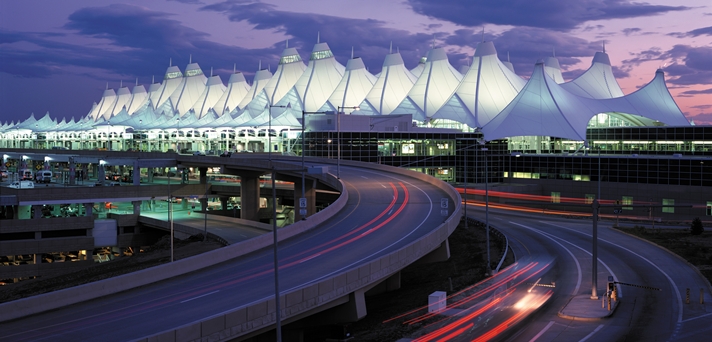 Denver International Airport (D.I.A.)
FUN FACT!!! The structure above the Denver International Airport is meant to represent the snow covered peaks of the Rocky Mountains! It actually looks like a circus tent gone wrong. It's TRUE!!!
So, D.I.A. and how to get in and out of it. Getting in to the airport is the easy part: just land there. Getting out is the hard part. Hopefully you have all arrived safely. The first thing you need to do is get your bags. So, from whatever terminal that you landed in, walk to the center of the terminal, go down the escalators, jump aboard the underground transit system, ignore the cheery pre-recorded greeting from the mayor (everyone does that), and head towards the main terminal to get your bags. Once all of that is complete, now you need to plot your escape.
There is several ways to reach the city from D.I.A.:
DENVER TRANSIT! This is brand new. After almost twenty years since the airport was built, the city finally thought it may be a good idea to put a light rail system out to the airport. The RTD A Line rail opened up last spring. Neither Kelly or I have been on it as yet, but have been told it's brilliant by people who's opinions we apparently trust. It costs $9.00, takes about 45 minutes to get into the city, you can take the rail from the airport straight downtown to Union Station, and likely get a cab from there to your actual hotel. http://www.denver.org/about-denver/transportation/airport-rail/
HOTEL VANS! Some hotels (i.e.: the expensive ones) offer rides from the airport to your hotel. This is something that you would have to check with your hotel about. I cannot do all the work.
SUPERSHUTTLE! Yep. We have them. Denver is not completely barbaric. Usually costs about $20. You can schedule a shuttle online before you arrive, hit the desk in the main concourse after you get your bags, or simply walk out to the taxi cab area and look for a shuttle there. Travel time depends on where your hotel is and how many passengers are in the van with you. So, it may take a while to get to your hotel, but is a brilliant way to get a quick glance and layout of the city. http://www.supershuttle.com/locations/denverden
TAXIS! There are several taxi services from the airport and into the city. From what I understand from my several friends that have driven cabs for a living, it's a flat rate of $60 from the airport and into the city. HOWEVER… this all depends on where your hotel actually is. If you are staying somewhere that is NOT Downtown (if your hotel is in Capitol Hill or down South Broadway or on the Moon…) you may not qualify for that airport rate! In that case, the fare may be upwards to $80. http://www.flydenver.com/parking_transit/transit/taxis
CAR RENTAL! There are several car rental agencies around D.I.A. What you would likely have to do is look for a rental agency desk in the main concourse, take a van to the rental agency car lot away from the airport, and head out from there. If you do that, it's probably a good idea to get some sort of GPS for the trip. You don't want to get lost. http://www.flydenver.com/parking_transit/car-rentals
UBER and LYFT! Yes, we have those as well. The costs are something that you would have to check with your app about.
FUN FACT!!! Denver International Airport is the largest airport in the country in terms of land area. It's so huge that the four busiest airports in the US (Hartsfield-Jackson Atlanta International Airport, O'Hare International Airport, Los Angeles International Airport and Dallas/Fort Worth International Airport) could fit into Denver Airport's 53-square miles of land. It's TRUE!!!
Some things to note as you are wandering around D.I.A. lost and wondering who took the city away: Denver International Airport is a hotbed for conspiracy theories. From the amount of money that was spent on building it that cannot be accounted for (apparently put aside for New World Order prisons), to Underground Bunkers where Lizard People live, gargoyles, Secret Masonic societies, and even unnerving murals with apparent N.W.O. stormtroopers killing doves. http://rationalwiki.org/wiki/Denver_Airport_conspiracy_theories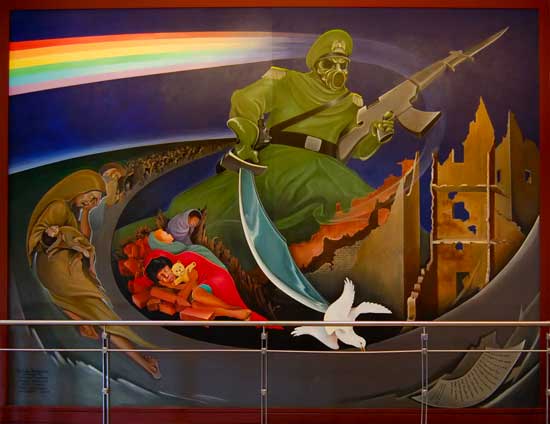 … in the main concourse. Yep, that's kinda unnerving.
Is there some sort of comic about this hotbed of crazy tinfoil hats? You bet there is!
ANOTHER THING OF NOTE: As you are heading out of D.I.A., make sure to check out the 'El Mesteno' (or The Mustang) sculpture by Luis Jimenez. It is slightly hard to see as you are leaving, but will be in the fields on your left hand side of the highway as you exit the airport. What is El Mesteno? It is the big blue evil looking horse sculpture that locals cheekily refer to as 'Blucifer! Demon Horse of the Plains.' If you miss it, it is much more easier to see as you enter the airport for your return journey home. His red glaring demonic eyes will offer you good luck and safe journey.
FUN FACT: El Mesteno slew it's maker! In June of 2006, sculpture Luis Jimenez was rushing to finish his near complete, but already overdue sculpture. As he was hoisting a section of the heavy stature for welding, the hoist broke, pinning the artist and severing an artery. He unfortunately died on his studio floor. It's TRUE!!!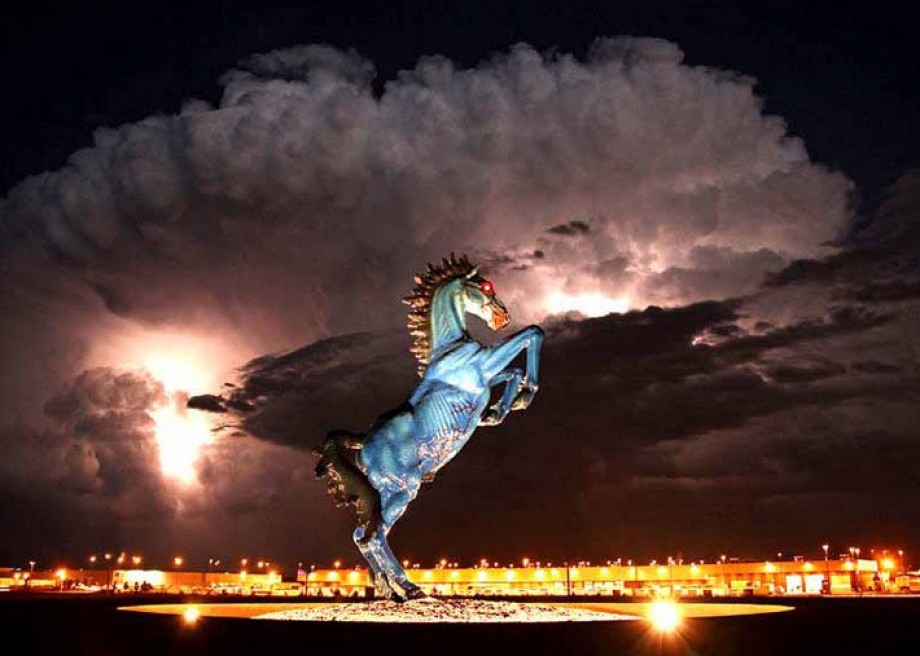 Behold Blucifer and despair!!!
Is there also a comic about all this blue weirdness? Yes, there is!!
So, you are finally out of D.I.A! Congratulations! Now where do you go???